1997-2007
Edit
Bumper: TBA
FX/SFX: TBA
Music/Sounds: A majestic synthesized fanfare with a male announcer saying "You're watching the Daystar Television Network."
Availability: TBA
Scare Factor: TBA
2007-present
Edit
Bumper: On an orange-purple-pink gradient sky background, an aurora streak shoots in. The camera pans further as the streaks land between a giant golden stylized star (different than the previous logo--the star is now an outline, there is part of it cut out and the bottom left part of it isn't extended as much) and several transparent glass rectangles next to it. Then, there is a transition involving zooming near various parts of it, sort of looking like golden cloth, bringing forth a top camera shot of the star, which appears even brighter and shinier than before. The star zooms out before we transition to the star spinning, then zooming out again. The streaks then land inside the star outline, turning it fully yellow, as "DAYST R" zooms out. The star forms the second "A" in "DAYSTAR", resulting in it looking like "DAYST*R". The glowing white words "experience it" appears below "DAYST*R" and the entire thing shines, pans back, sparkles and creates lens flares.
FX/SFX: TBA
Music/Sounds: TBA
Availability: TBA
Scare Factor: TBA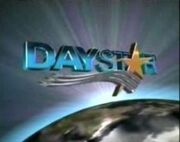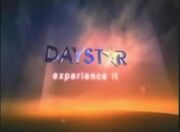 Ad blocker interference detected!
Wikia is a free-to-use site that makes money from advertising. We have a modified experience for viewers using ad blockers

Wikia is not accessible if you've made further modifications. Remove the custom ad blocker rule(s) and the page will load as expected.