2001-2014
Edit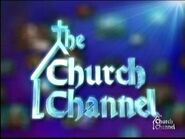 Bumper: We first see a picture of a church. It zooms out onto a shining blue background to reveal several other pictures and videos of religious-themed sequences moving to the right of the screen, as well as spinning circles consisted of the words "THE CHURCH CHANNEL" repeated over and over in shiny silver and sparks moving to the left. Then, the sky blue glass text "The Church Channel", in an old-time font and next to a stylized drawing of half a church (the cross on the top serves as the "T"), pans out from the right of the screen and zooms out. Finally, a flash causes another blurred copy of the logo to zoom in away and the background to blur.
FX/SFX: TBA
Music/Sounds: A gospel tune with a harmonizing woman, strings, chimes and drums.
Music/Sounds Variant: For the logo's first years, a male announcer says "This is the Church Channel".
Availability: Now currently being phased out for the next bumper below.
Scare Factor: Low
2014-present
Edit
Bumper: TBA
FX/SFX: TBA
Music/Sounds: TBA
Availability: TBA
Scare Factor: TBA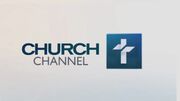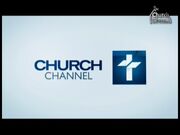 Ad blocker interference detected!
Wikia is a free-to-use site that makes money from advertising. We have a modified experience for viewers using ad blockers

Wikia is not accessible if you've made further modifications. Remove the custom ad blocker rule(s) and the page will load as expected.